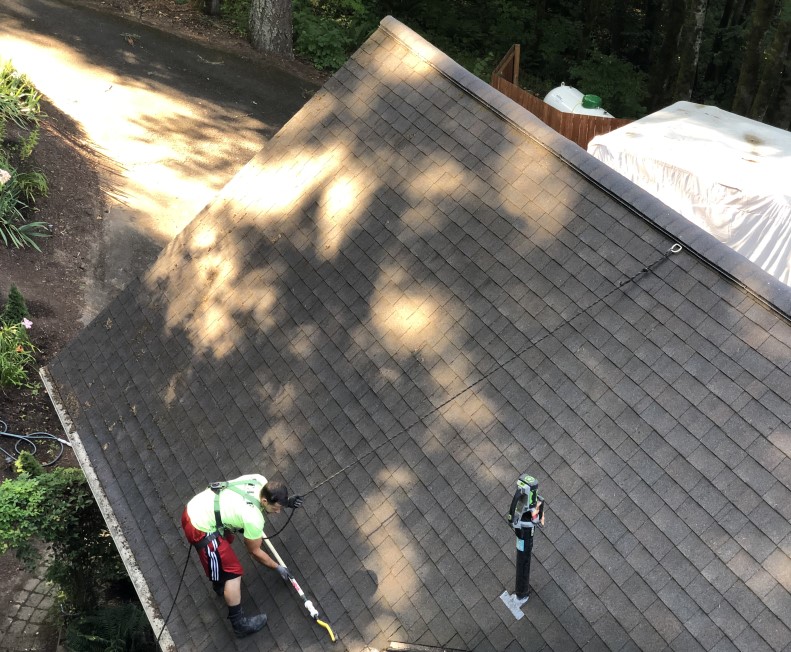 Shingle Roof Cleaning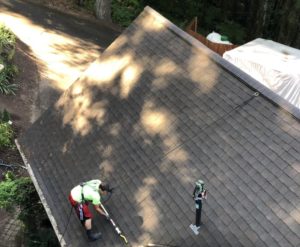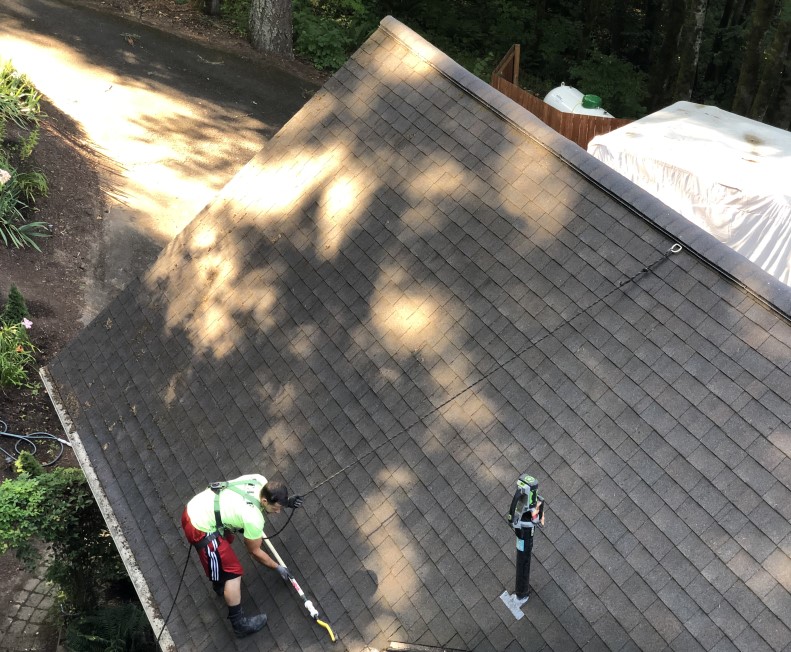 With the right maintenance, a shingle roof can look beautiful and function wonderfully for decades. Taking care of your roof is a great way to boost the appearance of your home while preventing problems like water damage or mold growth. If your roof is getting stained or discolored, it might be time for a thorough cleaning. Fortunately, Forcewashing is here to help! We provide fast and effective shingle roof cleaning services to homeowners throughout the Vancouver WA area and can meet all of your roof maintenance needs.
Signs You Need a Shingle Roof Cleaning
It can be challenging to determine when it's time for a roof cleaning. But, shingle roofs – also known as composite or asphalt roofing – need regular cleaning to prevent damage or moisture problems. During a roof cleaning, an expert can also check for any damages that need repairs. Some signs that you need composition roof cleaning services include:
Moss or lichen is growing on your roof
There are dark streaks or dirt buildup
Leaves or other debris are accumulating
What Does a Composition Roof Cleaning Service Include?
At Forcewashing, we offer a few different cleaning packages so you can choose a service that is right for your needs. Our skilled technicians are always happy to help you select the best package for your roof. The cleaning packages we offer are:
Power Washing: Power washing uses a pressurized stream of water to quickly and efficiently clean your roof. We may pair this method with a special detergent to scrub away any stubborn stains or debris. Many people are amazed at how much of a difference power washing can make on the look of their roof.
Moss Treatments: Moss, lichen, and algae can all grow on your roof. Not only do these cause a noticeable green hue, but they can also lock in moisture and cause extensive damage. Applying a moss treatment can prevent moss from growing back, which will improve the look of your roof while protecting it.
Roof & Gutter Cleaning with Moss Treatment: This triple-service package is a great option if you want to get all of your roof maintenance out of the way at once. We will thoroughly scrub your roof, remove debris from your gutters, and apply a moss treatment at the end. The best part is, this package is backed by a 2-year guarantee so can count on great results that will last.
Superior Shingle Roof Cleaning
If your composite roofing needs some attention, call the experts at Forcewashing today! We are a family-owned company that proudly serves the Portland and Vancouver metro area. Our experienced technicians are dedicated to providing you with an excellent experience and quality results so you don't have to worry about your roof and gutters. If you need roof cleaning services, call us today to get your free estimate!