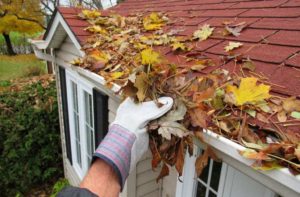 At Forcewashing we want our customers to be ready for winter with a list of key tasks that you can start doing now. So while you're enjoying the leaves falling, take your time through the list and let's get prepared for winter together!
Interior Winter Checklist
Check your heating and air conditioning system in your home

Have a professional come out and check the system to make sure you are ready for winter. Make sure that you have a spare filter on hand.

Clean your chimney and order firewood

Have your fireplace cleaned and inspected by a professional chimney sweep.
Order your firewood.
Review old wood left over from last season, if it's rotten you will need to remove it; if it is still in good condition, move it to the top of the pile so it is used first.

Test your smoke and carbon monoxide detectors

Because we tend to close up our homes pretty tight during the winter and use our fireplaces or wood stoves more it's important to make sure that all smoke and carbon monoxide detectors are in good working order.
Change your batteries to new ones if you haven't done that in a while and use the old batteries on other battery operated items in your home that are less important.

Time to switch from cooling to heating on your thermostat

A livable temperature for the home should be set, but remember that between 50-55 degrees will help to prevent pipes from freezing when the weather drops.
If you are able to schedule your temperature, consider shifting to a lower temp when you are not home and a higher one when you are.

The Attic Check

We have something in common with critters of all kinds and that is when it's cold we seek warmth and an attic is very attractive to critters. Because of this, it's important to do a few extra steps in making sure your attic remains critter-free.
Walk around the outside of your home and check your gable vents and make sure they are intact. Having a screen placed behind your gable vent could help to prevent critters from entering.
Make sure that there are no holes in your soffit and fascia. This can be a critter doorway.

Get an energy check of your home

Hire a professional person to come in and perform an energy audit of your home. This will identify areas in your home that need some TLC to keep your home comfortable and utilizing the energy to its best performance.

Check the seals around your windows and doors

For your exterior doors, make sure you can't see daylight around your exterior doors, if you can, consider hiring someone like a handyman to apply foam insulation around the doors.

Get your winter gear out!

Air out or dry clean your winter coats and gear.
Restock any salt or deicer.
Exterior Winter Checklist
Check the exterior wood of your home

All of the wood trim on the exterior of your home needs to be protected from the elements such as trim around your windows or exterior doors. If you find trim that is rotted, it will need to be replaced by a professional; staying on top of things by keeping your wood painted and caulked is a good idea. If you find cracking caulk or paint that is chipping away, scrape it away and redo it.
Check your deck by pouring water on it to see if the water beads up and your deck seal is good. If the water is absorbed into the wood, it's time to clean and seal your deck.

Clean your gutters & Downspouts

When gutters get backed up they can overflow and the water can run down your home which can cause the deterioration of your exterior to speed up.
Forcewashing can help here by cleaning out your gutters and removing all the debris. At the same time, we can make sure your gutters are in good working order!
Make sure that downspouts are emptying away from your home, if needed add downspout extenders.

Concrete or Asphalt Driveways and Patios

Time to get the moss out of those driveways and patios – nothing is worse than having a moss covered driveway or patio and then it snows or worse ices….that makes for one very slippery surface. Call Forcewashing and we will remove that moss on those surfaces.
Inspect your concrete or asphalt driveways and patios for cracks. Filling any cracks before you apply a sealer is key. A mason worker could assist with filling the cracks, and they will use the best approach and product to limit further cracking.
While you're looking at your patio, cover the patio furniture; just make sure that they are nice and dry so that you won't develop moisture when it is covered.

Pool and Sprinkler Shutdown

If you have a pool, this is the perfect time for repairs if they are needed. We suggest hiring a pool contractor to inspect and shut down your pool system for the season.
Sprinklers or drip irrigation systems should be shut down for the winter. As part of this you will want the lines to be blown out – hire a professional for this, it's worth the extra money and will prevent broken lines when you turn it on in the spring.
Outdoor water faucets are usually unprotected which means if we don't drain them the water can expand and that could cause all sorts of problems. Shut off the water valve to your outside spigot, open the exterior spigot valve and let the water drain out.  You won't get every drop, but what's left if it freezes will be able to expand without breaking any pipes or seals. Leave the water shut off to that faucet until you need it again in the spring and don't forget to empty and store your garden hoses!

Check your trees and bushes

Check for any branches that are dying and have them removed. While you should not trim your tree during the fall, if there are branches that are brown and dying or that are too close to your home or on your home you need to have these removed. Weakened or dying branches when frozen can easily fall causing damage to your home.

Reverse your ceiling fans

If you have a reverse switch on your fan, after turning on your heat consider reversing your ceiling fan to force that warm air down. Remember, warm air rises!

Check your roof!

It's the best time to get your roof ready for the winter by removing all the moss and debris that it has on it. This helps to maintain a healthy roof and expands the life of it.
At Forcewashing when we clean your roof we are also looking for loose or missing shingles and can fix those for you.

Garden tools and Mower

Clean and sharpen the gardening tools before putting them away, this will ready them for spring when you pull them out.
Your lawn mower should have an empty fuel tank if possible, check your lawn mower's manual for cold-weather storage steps.
We hope that you find these lists helpful, we recommend printing them and saving them as a good reminder for every fall season.  We hope you enjoy the fall season and look forward to working for you.